I came across
this article
today on Russia and its new emo epidemic. Looks like the Ruskies don't enjoy their kids dressing up like the
Mad Max
at an indie pop dance party ... This reminds me of the semi-recent
Above the Influence ad campaign
against indie rock, although not as extreme. It's pretty ridiculous to think that a modern country would even think about outlawing a certain style of clothing. Maybe that Putin puppet, Medvedev, took some bad X at the last Dashboard show in Moscow.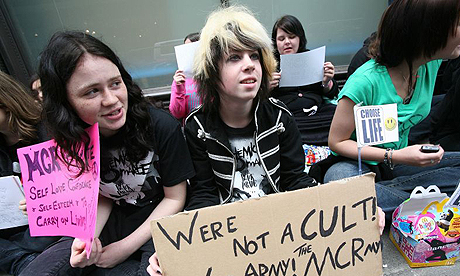 A couple of things:
These 2 kids have on the same My Chemical Romance shirts: fashion faux pas
There's a Happy Meal in the pic:

EMO FAIL


Choose Life? I thought all emo kids eventually commit suicide
Does the pink sign say "Self Love"? Hopefully that wasn't part of the protest agenda.
Then again, maybe it's good that Russia is being proactive. After all,